Chances are you're already familiar with our famous hemp-derived cannabinoid friends: CBD, Delta 8 THC, and Delta 9 THC. But have you heard of the HHC cannabinoid? This natural hemp plant compound is rarer than Delta 8 THC but similarly powerful.
For CBD enthusiasts wanting to incorporate some natural potency into their wellness regimen, HHC is just what you're looking for. So what's the deal with HHC, and why is it all the rage? Keep reading to find out everything there is to know about this dynamic cannabinoid.
What Is The HHC Cannabinoid?
Hexahydrocannabinol (HHC) is a cannabinoid found in limited quantities in the hemp plant. Although HHC is a naturally occurring compound, it is hard to obtain sufficient amounts to make products. But by employing safe and clean production processes, brands like Exhale Wellness can convert CBD into HHC to make a wide variety of products.
HHC is not a recently discovered cannabinoid. In 1944, American chemist Roger Adams successfully generated the elusive compound by converting Delta 9 THC, better known as simply "THC," into HHC.
Adams generated HHC molecules from the bountiful amounts of THC obtained from the cannabis plant marijuana. Although marijuana is still federally illegal, HHC can be generated from legal hemp plants. A hemp plant is legal if it contains 0.3% or less Delta 9 THC. It's important to note that HHC is not a THC compound, and the two compounds have a different chemical structure.
As a result, HHC has several unique properties. It has a longer shelf life and is more resistant to UV light and heat. HHC can bind to the CB1 and CB2 receptors of your endocannabinoid system (ECS), a vast system of cell-signaling receptors responsible for regulating several important homeostatic processes such as mood, appetite, and sleep.
Thanks to the 2018 Farm Bill, which made hemp federally legal, we can use hemp-derived THC to make HHC. But how exactly is HHC made? Let's find out.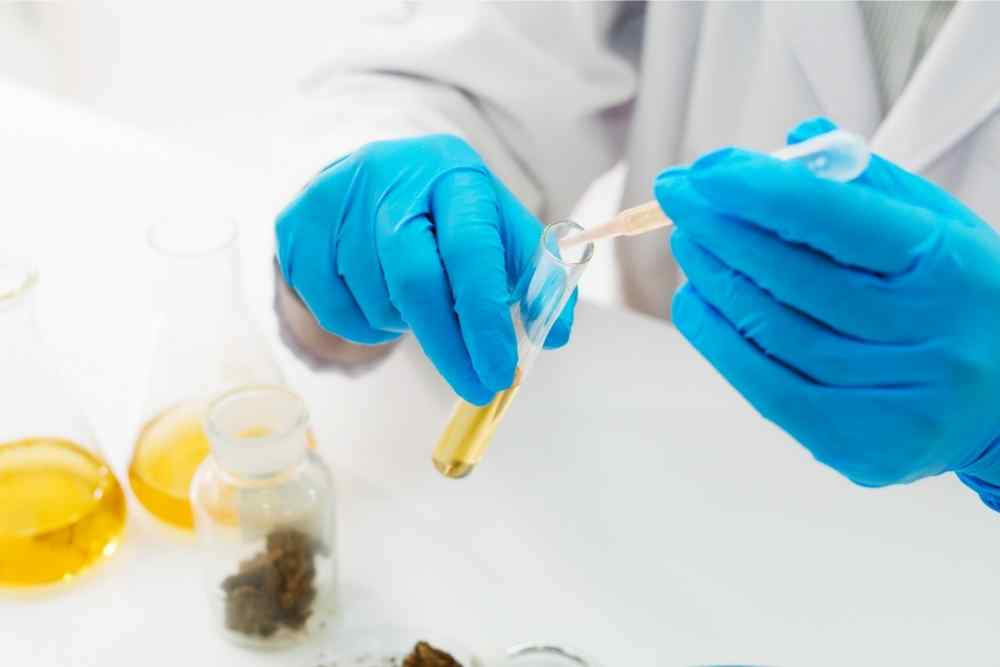 How Is HHC Made?
Making HHC is a multi-step process. First, CBD is extracted from hemp plants and distilled into an isolate form. What happens next depends on where you buy your HHC products from. Each company uses a proprietary process to make HHC. However, at Exhale Wellness, we believe in transparency and don't mind sharing how we make it.
After obtaining hemp-derived CBD isolate, we use an isomerization process to convert CBD into Delta 9 THC. Once we obtain enough Delta 9 THC, we employ a hydrogenation process to break the compound's double bonds, resulting in HHC.
This isn't very different from how Roger Adams first generated HHC back in 1944 (except he used marijuana, and we use hemp). Since THC has a similar molecular structure to HHC, Adams converted it to HHC by utilizing hydrogenation, a process popular in food production. For example, companies use hydrogenation to convert vegetable oil into the margarine you have in your fridge!
Is HHC Legal?
HHC is 100% federally legal since it is a hemp-derived cannabinoid that is Farm Bill compliant. Currently, no laws on the state level make HHC illegal. However, this doesn't mean that the state you reside in doesn't have any restrictions on this hemp-derived cannabinoid.
Some states have restrictions on CBD, which is the cannabinoid we use to create HHC. If you live in a state that bans CBD products, it could be difficult to get your hands on HHC locally.
The following are some states where it could potentially be difficult to find HHC in local stores (based on other hemp-related laws):
Alaska
Arizona
Arkansas
Colorado
Delaware
Idaho
Iowa
Mississippi
Montana
New York
Rhode Island
Utah
In all other states, you should have no problem finding HHC locally. However, laws affecting the cannabis industry can be sudden. That's why it's important for you to always research laws in your state regarding HHC products before you purchase them. Luckily, you can always find products online at Exhale Wellness!
What Types of HHC Cannabinoid Products Are There?
Just like CBD, Delta 8, and Delta 9, several different HHC products are available for your pleasure. Here are some of the many HHC products available to satisfy your unique needs.
HHC Flower
These high-potency cannabis Sativa hemp buds are coated in HHC distillate to give you a positive smoking experience without the negative side effects. Just grind some of these gorgeous green goodies and make a joint or pack a bowl; the choice is yours.
HHC Pre-Rolls
Take the hassle out of grinding with these expertly rolled HHC pre-rolls. Each joint comes packed with finely ground, premium-quality hemp flower free of air pockets. Pre-rolls come wrapped with hemp paper to help maintain an even burn for a smooth smoking session.
HHC Vape Cartridges
HHC vapes are a simple and convenient way to get the benefits of HHC. Vaping doesn't use combustion, so there is no smoke produced. Instead, a heating chamber is activated with a vape battery, heating the vape juice in the cart and producing vapor. Take a drag — or several — or save it for later; the choice is yours! Simply take an HHC vape cart, attach it to a standard vape pen, and start puffing away.
HHC Gummies
If you want a tastier way to take HHC, then gummies are the way to go. These delicious fruit-flavored edibles come pre-dosed in 25 mg gummy cubes. Portable and simple, take these highly discrete HHC gummies at your leisure.
HHC Oil
HHC oil contains a plant-based carrier oil infused with HHC. A good quality HHC oil will use hemp seed oil as its carrier because it's highly nutritious and packed with omega fatty acids. Highly versatile, HHC oil allows you to benefit from the cannabinoid in more ways than one. HHC oil is typically available in a convenient glass dropper bottle for easy dosing.
How to Use HHC
With a variety of products come various ways to consume them. You can enjoy some products in more ways than one.
Here is how you can consume the HHC products listed above:
Flower: Grind the flower and roll it into a joint or blunt or pack it into a pipe or bong, then light and inhale. You can also place it in a dry herb vaporizer, activate the battery, and inhale.
Pre-Rolls: Light the pre-roll and inhale.
Vape Cartridges: Attach a cart to a standard 510-threaded vape pen, activate the battery, and take a drag.
Gummies: Eat at your convenience.
Oil: Take oil sublingually by placing drops underneath your tongue for faster effects, swallow it directly, or add it to some of your favorite food or drink.
What Are the Benefits Of The HHC Cannabinoid?
HHC's benefits are similar to the mellow vibes and euphoria of Delta 8 THC. Sitting in a Goldilocks zone of mental and physical effects, the benefits that HHC can impart are relative depending on your experience and tolerance to cannabis compounds.
General HHC benefits may include:
Reducing anxious behaviors
Uplifting mind and body
Feeling refreshed and rejuvenated
Imparting creativity
Improving sociability
Boosting appetite
Easing stomach issues
Relieving psychical discomfort
Promoting deeper sleep
What Are the Effects of HHC?
HHC has very minimal effects when dosed accordingly and is generally safe to take. Like any other hemp-derived product, taking too much of this cannabinoid can lead to an HHC high and produce minor side effects. However, HHC's effects are temporary and quickly fade away.
General HHC effects may include:
Dry, red eyes
Dry mouth
Hunger
Lethargy
Drowsiness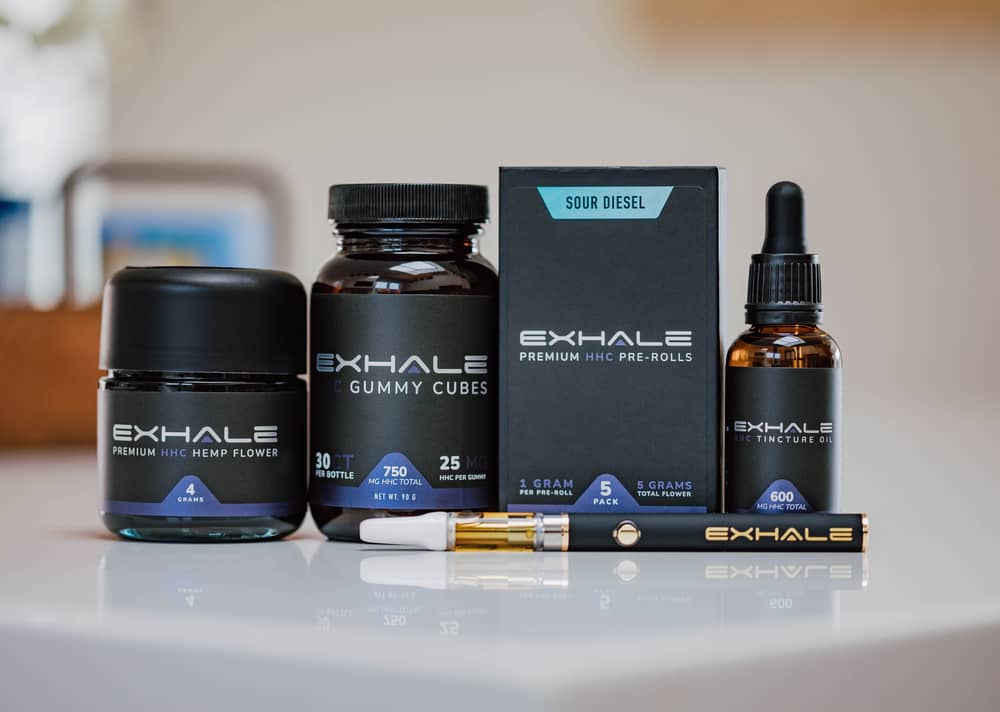 Why Choose Exhale?
We know a thing or two when it comes to hemp-derived cannabinoids. At Exhale Wellness, we are the industry-leading brand of Delta 8 products. And now we've set our sights on HHC! We make various potent HHC products, including those mentioned above.
We Offer the Safest, Purest, and Most Potent HHC Products Anywhere
Our HHC products are made using the safest and cleanest methods available. We use a solventless CO2 extraction method to give you the purest HHC product imaginable. We provide a third-party lab-tested Certificate of Analysis (COA) on our website to guarantee quality. This COA details the cannabinoids and their potencies inside to ensure safety, purity, and potency.
All of our products are:
All-natural ingredients
Cruelty-free
Farm Bill compliant
100 % USA grown organic hemp
Lab-tested for accuracy
Made using safe and clean production methods
THC-free
Save Money When You Buy More HHC
Never pay full price for our HHC products ever again. When you sign up for our free subscription services, you'll save 25% on every order, all the time! Choose bi-weekly or monthly deliveries to make sure you never run out of HHC products ever again.
Member or not, every customer will receive the following assurances:
30-day money-back guarantee if you're not satisfied
So what are you waiting for? Get your hands on the best HHC products around and become a member of our free subscription services today!
Final Thoughts: HHC Cannabinoid – What Is HHC?
One of the most popular hemp-derived cannabinoids sweeping the nation right now is HHC. This naturally occurring yet evasive cannabinoid is finally available in various products for consumers to enjoy. From the soothing tranquility of Delta 8 to the inspiring euphoria of Delta 9, HHC offers the best of both worlds.
Although rare in nature, reputable cannabis industry brands like Exhale Wellness have devised ways to obtain large amounts of HHC through safe and clean production methods. Don't be left out of the HHC phenomenon. Head on over to our shop to get your hands on some of our best-selling HHC products while they're still available!