Everyone knows vapes are convenient and easy but do you know how to Vape Delta-8 properly? It is pretty simple and is one of the best ways to consume Delta-8 THC and feel its beneficial effects. Delta-8 THC is revolutionizing the way people enjoy hemp.
You do not need to be an experienced consumer of Delta-8 to vape. And even if you have consumed Delta-8 THC products, this article will shine more light on what Delta-8 vapes are. If you want to learn more about this exciting new product, read on further to learn what it is, its effects, and how to vape Delta-8 properly.
What is Delta-8 Vape?
Delta-8 THC vapes are a type of product consumers inhale to feel the effects of Delta-8. Each cartridge contains the following ingredients.
Full-Spectrum Delta-8 THC oil: Brands retrieve the naturally occurring chemical Delta-8 THC (tetrahydrocannabinol) from hemp plants through a clean extraction method. Thanks to the 2018 Farm Bill, Delta-8 products contain less than 0.3 percent of Delta-9 THC to be bought, consumed and sold legally. Although, current state laws on the

legality of Delta-8

products change by the day.

Terpenes: Terpenes are a naturally occurring compound found in hemp and other plants responsible for providing vapes with their flavors and aromatic odor. Some terpenes are more common than others and provide each hemp strain with its unique taste.
Seek vapes with all-natural ingredients instead of vapes with artificial flavors. Some brands make their Delta 8 vape with unfavorable ingredients such as additives, MCT oil, and other harmful byproducts and solvents.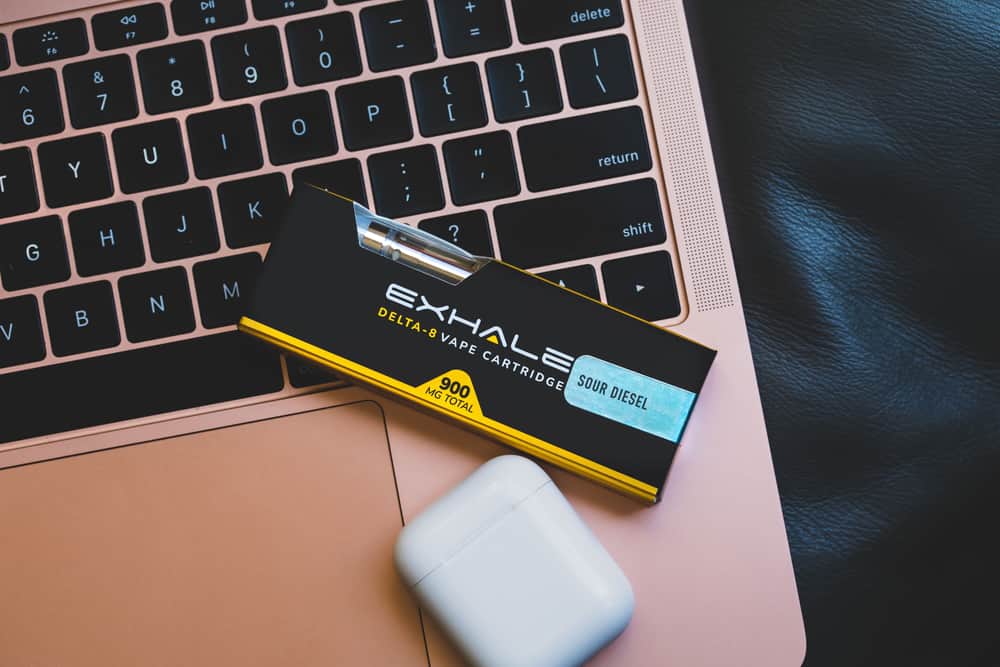 What Types of Delta-8 Vaping Variations Are There?
Not every Delta-8 THC vape is made the same. There are different variations of the same product. All vaping variations are best inhaled to feel the effects of Delta-8. Here are different variations available.
Delta-8 Vape Cartridges: Some cartridges hold 500 to 1000 milligrams of Delta-8 THC. Some are single-use only, and others come with Delta-8 extract. The cartridge screws onto almost any battery regardless of brand.
Disposable Delta-8 Vapes: Instead of purchasing or refilling a regular cartridge, disposable Delta-8 vapes contain a certain amount of "hits" until they run amount and are disposed of.
Delta-8 Vape Pods: Vape pods are similar to cartridges, except they are only compatible with the Juul type of batteries.
Delta-8 THC Flower: Instead of vaping extracted Delta-8 THC, consumers inhale different Delta-8 THC flower strains. Consumable via a joint, bong, or other paraphernalia.
What Do You Need to Vape Delta-8 Properly?
Vaping Delta-8 THC does not require an expansive set of supplies. A lot of vapes are universal, meaning they're attached to batteries from different brands. The type of supplies required depends on how to plan to consume Delta-8. Here are the items needed to vape Delta-8.
Battery: Without a battery or vape pen, people cannot vape Delta-8 properly. A vape pen may come in different sizes and shapes, but most are compatible with most vape cartridges because they're made with a 510 thread. Some vape pens are more round and are only compatible with Delta-8 THC Juul pods.
Charger: A charger is required to provide power to the vape pen battery. When a vape pen battery is charged, it heats the bottom component of the cartridge at a certain temperature. It then heats the extract and allows the consumer to inhale the vapor.
Joint Papers and Lighter: Consumers who prefer Delta-8 THC flower may roll or purchase preroll Delta 8 joints. A lighter is required to light it up for inhalation.
Pipes or Bongs: Some consumers would rather inhale Delta-8 THC flowers through a pipe or bong. These items are sometimes made out of glass, plastic, or wood.
Optional Items: A carrying case is a great way to store your Delta-8 THC vape pen with its battery and charger. Most chargers connect to an outlet via a USB charger wall plug, so having an extra wall plug in your case may come in handy.
The Delta-8 THC vapes that do not require any supplies are disposable vape pens. The battery of these pens is activate the moment a person inhales to provide a smooth vapor.
How to Vape Delta-8 Properly
The best way to vape Delta-8 THC properly depends on your method of consumption. Here are some steps to making the most out of your Delta-8 THC vaping experience.
Choose the Vape and Battery
Whether you select to vape with Delta-8 cartridges or a disposable pen, one thing to consider is the flavor and strain of Delta-8. Vape cartridges come with different flavors through the natural terpenes of the different Delta-8 THC flowers. The vapes are available in Indica, Sativa, or hybrid strains.
Another thing to consider is the potency of the vape. If you are a first-time consumer, you might want a vape with a lower potency. An experienced consumer is better off with a more potent Delta-8 THC vape. It also helps to select a sturdy vape pen battery that'll endure an accidental drop to the floor.
Determine your Dosage
After gathering your Delta-8 vape supplies, the next thing to consider is finding the right dosage, which is different for first-time consumers than more experienced people.
First-time consumers should two to three puffs inhale and exhale gently. The effects of Delta-8 THC start as fast as 90 seconds. If you do not feel anything after 30 minutes, then take another two to three puffs.
If you are experienced with hemp products, whether it is with CBD or Delta-9 THC, you may need more puffs to feel the effects of Delta-8. Five to six puffs should be good enough, but consumers should take one or two more after 30 minutes if they do not feel any effects.
Enjoy the Puffs
After you begin to feel the effects of Delta-8 THC, enjoy the experience to the fullest. Some consumers prefer relaxing, while others like vaping Delta-8 THC before they begin a task.
Whenever you inhale a cartridge, most batteries light up to indicate when it needs a charge. After you are done with your vape, make sure to store it away somewhere dark and cool. Avoid leaving it exposed directly to the sun.
What Are the Benefits of Vaping Delta-8 THC?
Vaping Delta-8 provides consumers with plenty of benefits. Here are the benefits people can enjoy with Delta-8 THC vapes:
Enhances Mood

Alleviates Physical Discomfort

Balances Natural Digestion

Provides Feelings of Euphoria

Promotes Natural Sleep
According to scientist-reviewed research, all mammals have an Endocannabinoid System responsible for maintaining balance in the body (homeostasis). Delta-8 THC and other cannabinoids support the CB1 and CB2 receptors of the endocannabinoid system (ECS), which helps the body regulate itself and is located throughout the body of all mammals. 
Delta-8 THC provides the beneficial effects of hemp without being too intoxicating like Delta-9 THC. It is also non-toxic, meaning people cannot overdose on it. Consumers should be aware that the FDA has not evaluated the statements regarding Delta-8.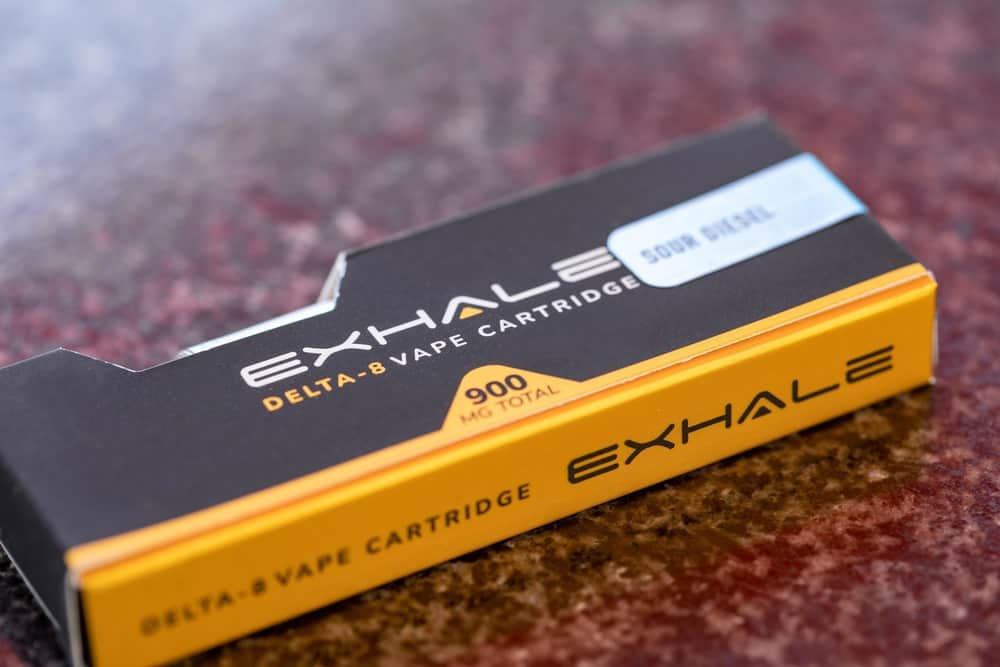 What Are the Effects of Vaping Delta-8?
The fastest ways to feel the effects of Delta-8 are through vaping. Consumers may feel the effects within 90 seconds to a few minutes. Adverse side effects of Delta-8 include:
Dry mouth

Increased appetite

Nervousness

Drowsiness
Delta-8 THC is well-tolerated with minor and temporary side effects that lessen with repeated consumption.
Where Can I Find Delta-8 Vape Carts?
There is no better place to search and find Delta-8 vape carts than right here at Exhale Wellness. As the leading brands in the Delta-8 market, Exhale Wellness prides itself on offering a clean and all-natural, well-tolerated by plenty of consumers.
With all-time favorite strains like OG Kush and Sour Diesel, Exhale Wellness carries a selection of strains to cater to consumers' different tastes and needs. Each vape contains 900 milligrams of Delta-8 THC.
Exhale Wellness believes in providing consumers with quality, so they test each product with a third-party laboratory. The results are published on a Certificate of Analysis, an official document that breaks down cannabinoid content, potency, and tests for any harmful byproducts.
Exhale Wellness stands behind their products which is why they provide a money-back guarantee policy. Products from Exhale Wellness have plenty of positive, honest reviews from happy consumers. Their products have also been featured in well-known publications like the LA Weekly and the Observer.
Final Thoughts – How to Vape Delta-8 Properly
The availability of hemp-derived products is growing as many different brands seek to be part of an explosive market. Most consumers are familiar with Delta-9 THC and CBD. Still, Delta-8 THC are the newest kids on the block, leaving a positive lasting impression on experienced and new consumers across the country.
Knowing how to vape Delta-8 properly will ensure your experience with Delta-8 THC is the best! If you want to check out other Delta-8 products, visit Exhale Wellness!