One of the easiest ways to dose Delta 8 THC is by taking Delta 8 tincture, a versatile product that can be used for mood enhancement and health benefits. Oral ingestion is the recommended way to use tinctures. However, taking a tincture doesn't have to be dull or monotonous. One of the best ways to take tincture is by directly mixing it into your favorite food or drink.
More potent methods exist to get the most out of your tincture. By understanding the various other methods to dose tinctures, you can add variety to your D8 wellness routine and help maximize your tincture's potency. Read our helpful guide about the best ways to use Delta 8 tincture to help you decide which method is right for you!
What is Delta 8?
Delta 8, also known as Delta 8 THC or D8, is a naturally occurring cannabinoid found in the flowers of hemp plants. Delta 8 is scarce and makes up less than 1% of hemp plants. The trace amounts of Delta 8 available make it a valuable cannabinoid in the cannabis industry. However, Delta 8's value comes not from its rarity but its potency.
Delta 8 provides the same benefits as its cannabis plant cousin Delta 9 THC, but without the intoxicating effects. Like other cannabinoids, Delta 8 engages your endocannabinoid system (ECS) and produces uniquely uplifting, exhilarating, and relaxing experiences.
This holistic approach to boosting one's general wellness by aiding their ECS has made Delta 8 a highly sought-after natural remedy for many people. As a result, Delta 8 is found in various products ranging from flowers, vape cartridges, edibles, and tinctures, each helping to aid a person's wellbeing.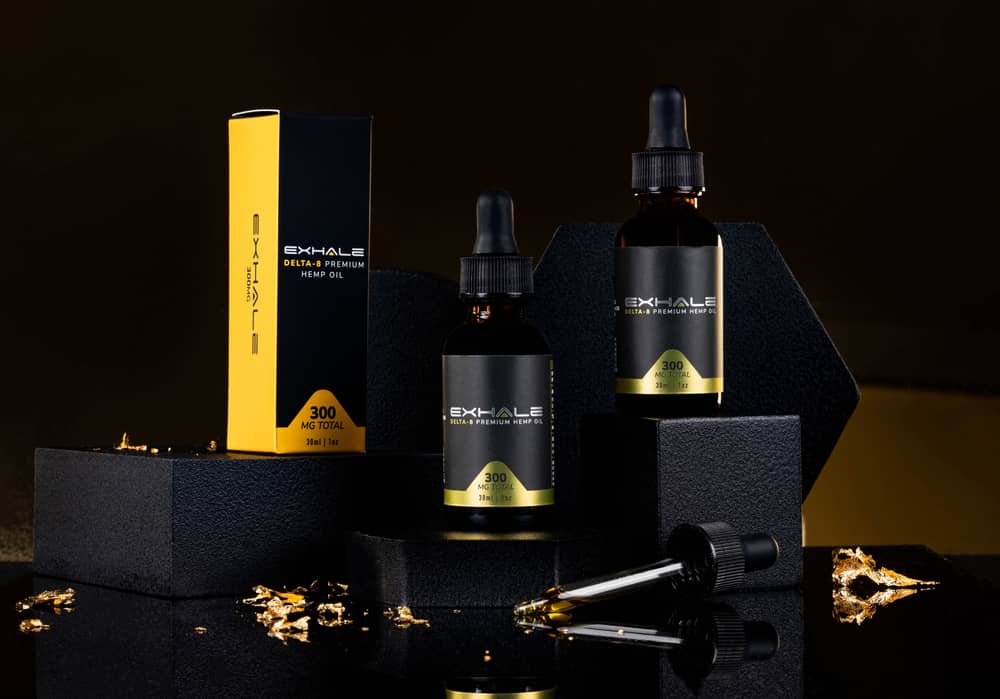 What Are Delta 8 Tinctures?
Delta 8 tinctures are oils infused with Delta 8 THC. A typical Delta 8 tincture consists primarily of a carrier oil, typically hemp seed oil or MCT oil, and Delta 8 THC. Tinctures have a very subtle earthy flavor to them that doesn't significantly impact your palate.
Tinctures typically come in highly discreet small glass bottles with a dosing dropper conveniently incorporated into the cap. The most common bottle sizes are 30 mL and 60 mL, and they come in various strengths ranging from 300 mg to 1,200 mg. You can use the dropper to measure the tincture in increments of 0.25 mL up to 1 mL and ingest it orally.
What Are the Benefits of Using Delta 8 Tinctures?
Delta 8 tinctures provide many benefits. The tinctures themselves are easy to carry, a piece of cake to dose, and very discreet. In addition to how easy they are to carry and take, tinctures are valued for the potency of their active components to help boost a person's general wellness.
Some of the most common benefits of using Delta 8 tinctures include:
Fostering emotional wellness by creating a feeling of euphoria.
Unlikely to cause anxiety, paranoia, or intoxication.
Easing physical discomfort.
Promoting a stronger appetite.
Providing a feeling of ease and relaxation.
Facilitating a good night's sleep.
What Are the Best Ways to Use Delta 8 Tincture?
Tinctures are valued for their versatility. There are several ways you can use Delta 8 tinctures. But before you do, you have to consider certain factors unique to you that can affect how much and how often you can take Delta 8 THC.
A few things that can impact your Delta 8 tincture dose include:
Age
Sex
Weight
Body chemistry
Health history
Potential interactions with Delta 8 THC
Delta 8 THC tolerance
How you decide to use Delta 8 tinctures is entirely up to your lifestyle, health care needs, and personal preference. Here are some of the most popular ways you can use your tincture.
Direct Method
The direct method is the easiest and fastest way to take Delta 8 tincture. All you have to do is drop the tincture directly into your mouth and swallow.
The effects of the tincture take the longest to kick in with this method because the tincture has to make its way through the digestive tract before entering the bloodstream. Delta 8 THC finally takes effect 45 minutes to about an hour after ingestion.
Compared to more fast-acting methods of using Delta 8 tincture, the direct method allows you to feel the effects the longest and lasts 6 to 8 hours. The direct method is also the most straightforward method of taking tincture, especially for those on the go.
Sublingually
The most effective way to use Delta 8 tinctures is sublingually. This method involves placing a few drops underneath the tongue and holding it there for about 90 seconds.
Sublingual placement of Delta 8 tinctures bypasses the digestive system and utilizes the glands underneath the tongue for more rapid absorption of Delta 8 THC into the bloodstream. The effects kick in 15 to 30 minutes after placement and can last from 4 to 6 hours.
When the effects start to wane, you can repeat this method until you are satisfied. Despite being the shortest lasting method for using tincture, the sublingual method is still the most immediate for rapidly receiving the benefits of a Delta 8 THC.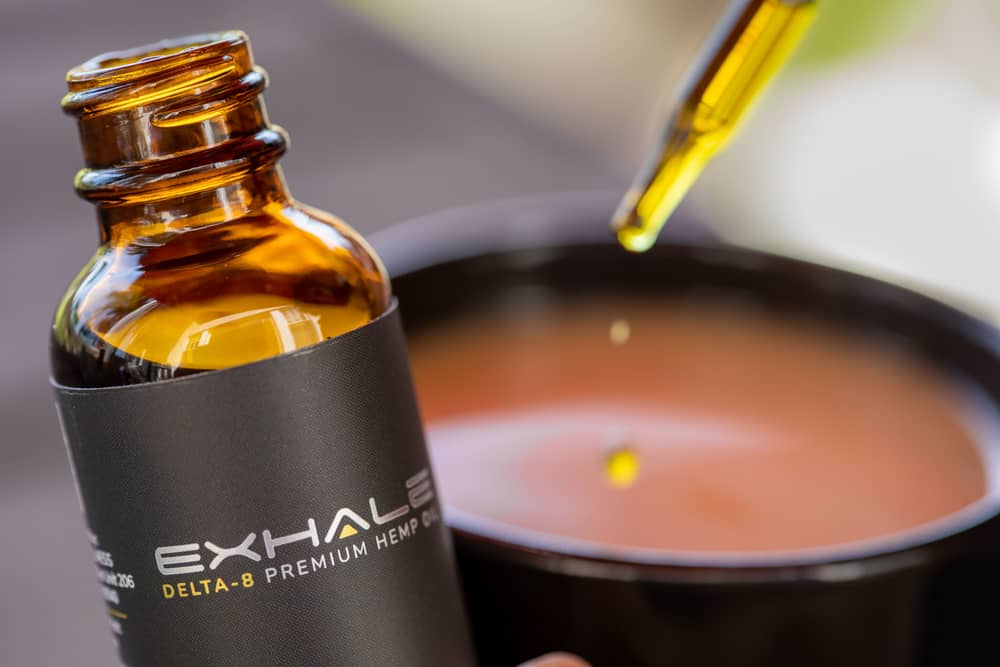 Mix It Into Something
Adding a few drops of Delta 8 tincture directly into your favorite foods or beverages can be a flavorful way to take it. Add drops of tincture into your morning coffee, your lunchtime salad, or an evening casserole to get your desired dose.
Mix a few drops of Delta 8 THC into your batter the next time you bake. Beware of baking with Delta 8 tincture at temperatures above 350 °F since this can degrade your tincture's quality.
Apply It Like A Topical
You can apply Delta 8 tincture topically. However, this method is not recommended due to the ineffectiveness of receiving the benefits of Delta 8 THC.
Using tincture topically can also impact your finances since using more of it can lead to a rapidly depleted bottle. If you prefer the topical application of Delta 8 THC, then it's best to use Delta 8 THC products formulated for topical use.
Can You Vape Delta 8 Tincture?
Whatever you do, DO NOT vape Delta 8 THC tincture! Oral tinctures are flammable and can cause injury or lead to the inhalation of harmful particulates from your vape pen. Tinctures are made for oral consumption only and must be used accordingly.
Oils that are used in vape pens are specially formulated for vaping. Shop our expansive catalog of Delta 8 vaping products if you're looking for a premium quality Delta 8 THC vaping experience!
Where Can I Find the Best Delta 8 Tincture?
Look no further than Exhale Wellness if you want a high-quality Delta 8 tincture that can provide the maximum benefits of Delta 8 THC! Here's why we're one of the most well-known brands for premium D8 tinctures:
100% All-Natural Ingredients
At Exhale Wellness, we use only all-natural, organic, and non-GMO ingredients. We make our Delta 8 tincture with 100% organic hemp seed oil, a nutritious carrier oil packed with protein and Omega 3, 6, and 9 fatty acids.
There are no additives, preservatives, artificial flavorings, or colors in our tincture. It comes in a glass dropper bottle for convenient dosing and to preserve the quality of the oil.
A Full Spectrum Experience Backed by Third Party Tests
Our Delta 8 tincture contains full spectrum cannabinoids to give you the most potent and optimal experience imaginable. Our tincture is available in several strengths – 300 mg, 600 mg, and 1,200 mg – to satisfy your mood and wellness needs.
As a leader in the cannabis industry of premium Delta 8 products, we pride ourselves on our transparency and integrity. You won't find any low-quality products here! All of our products are third-party lab tested and come with a Certificate of Analysis (COA) to ensure the quality of our products.
Federally Legal and Farm Bill Compliant
We use 100% federal Farm Bill compliant hemp sourced from the best hemp farms in the nation. Our Delta 8 products are federally legal, and we only ship to states that allow D8 products to be sold.
Discounted Pricing and Free Shipping
Whether you decide to buy one Delta 8 tincture or several, we provide free shipping on all of our products. We ship your products discreetly to your doorstep and offer a 30-day money-back guarantee!
Want to save money and ensure you never run out of Delta 8 tincture? Become a member of our convenient subscription services and have your tincture delivered to you every two weeks or every month. By subscribing, you automatically save 25% on every order and 30% on our Delta 8 product bundles!
Final Thoughts – Best Ways to Use Delta 8 Tincture
Delta 8 THC is a popular cannabinoid important to many people's daily wellness routines. Several Delta 8 THC-infused products from flowers to vapes are available to satisfy your Delta 8 THC needs. One of the most effective ways to receive the benefits of D8 THC is by taking a tincture.
There are several ways you can take a Delta 8 tincture. The most effective way is by placing a few drops underneath your tongue. Depending on your lifestyle and personal preferences, you might choose to administer it a different way – the choice is yours. When shopping for Delta 8 products, choose Exhale Wellness. We offer a wide range of products to meet your Delta 8 needs, and all of our products are 100% federally legal and come third-party tested to guarantee you're getting a premium quality product.