Where to Buy Delta 8 in Georgia
State and federal law surrounding Delta 8 THC can be confusing because each state defines it differently. Some states have even banned the sale or purchase of Delta 8. This may have you asking whether it's legal in your state or not. Well, we're here to reassure you that Delta 8 THC is legal in the state of Georgia! Now that you know this, the important question is, where can I buy Delta 8 in Georgia? Better yet, where can you buy quality Delta 8 in Georgia?
Delta 8 should only be purchased from reliable retailers with good reputations and follow quality standards for their products. Most CBD stores, head shops, and smoke shops will be a source of good Delta 8 THC, but it's always a good idea to research a brand before buying.
What Is Delta 8?
Delta 8 THC is a compound of the hemp plant found in small quantities. It causes minor euphoria with a low risk of unwanted negative side effects like paranoia or hallucinations. Delta 8 THC interacts with the body's endocannabinoid system (ECS) to cause extraordinary cognitive and physical sensations.
The amount of Delta 8 THC present in hemp plants makes up less than 1% of the plant's overall composition. A whole lot more Delta 8 is needed to make potent Delta 8 THC products, which is why most companies use a process called isomerization to obtain more.
Isomerization allows manufacturers to convert cannabidiol (CBD) into Delta 8. CBD and Delta 8 THC particles are very similar except for a double bond on their carbon chains. If you move the double bond to the 8th carbon chain, you get Delta 8. You can do this through a chemical process involving light, heat, and patience. Because it comes from the hemp plant, Delta 8 is a federally legal substance, which allows the sale, purchase, and use of all Delta 8 THC products. There are many of these products, ranging from edibles and inhalants to topicals and oil tinctures.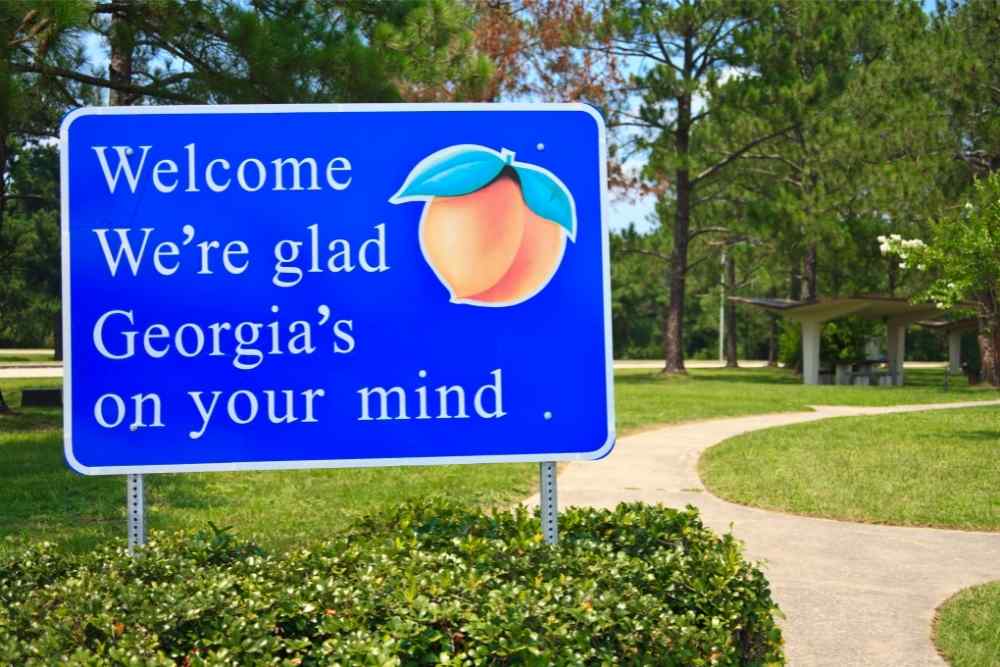 Is Delta 8 Legal In Georgia?
According to Georgia law, Delta 8 is federally legal in the United States and locally legal. The 2018 Farm Bill signed all hemp products (including Delta 8 products) into an agricultural status that individuals can take and own.
Previously, hemp and cannabis were considered the same plant and were strictly enforced as illegal under the federal government's controlled substances act. Fortunately, the passing of the 2016 Farm Bill distinguished hemp and cannabis as two different substances as long as hemp plants contain no more than 0.3% Delta 9 THC.
Additionally, the Georgia Hemp Farming Act specifically permits the licensing of hemp farming in the state, solidifying the legal status of hemp products like Delta 8 in Georgia.
How Old Do You Have To Be To Buy Delta 8 in Georgia?
Most retailers require consumers to be at least 21 years of age to purchase Delta 8 products. This is still applicable in the state of Georgia! As long as you are 21 or older, you can purchase Delta 8.
Where Can I Buy Delta 8 In Georgia?
You can find Delta 8 THC products at many retailers where cannabis or CBD products are sold, such as smoke shops and dispensaries. But if you can't find any good options, don't resort to seedy gas stations or smoke shops with limited options. You can also find Delta 8 for sale online, which is where Exhale Wellness shines!
Our selection of Delta 8 THC products is broader than those you're likely to find in store. There are many products to choose from, including a selection of flower strains and carts. There's something for everyone on Exhale Wellness's site! And remember to use the code GEORGIA15 to get 15% off your entire order!
Are you looking to stay local? No problem! Avoid sketchy gas stations and convenience stores and check out one of these popular stores in Georgia to get your hands on quality Delta 8 THC products:

Green Diamond CBD
129 S Hill St, Griffin, GA 30223
Phone: (678) 692-8313
The Heated Coil Vape & CBD Shop
4955 Sugarloaf Pkwy Suite 120, Lawrenceville, GA 30044
Phone: (770) 417-8595
Vape Cabin
1956 Duluth Hwy Suit B106, Lawrenceville, GA 30043
Phone: (678) 790-0242
Smoke Buddy's
7550 Veterans Pkwy, Columbus, GA 31909
Phone: (706) 507-1070
Can Delta 8 Products Be Shipped To Georgia?
Yes! Exhale Wellness ships to Georgia and most of our orders ship out in less than 7 business days! We also have a full list of the states we ship to on our product pages.
Final Thoughts – Where to Buy Delta 8 In Georgia
The legality of Delta 8 THC can be a little tricky, especially with all of the legal jargon and state-specific restrictions. The important thing to remember is that each state decides how they want to handle CBD and Delta 8 laws (and any hemp derivatives), which means there will be different legal statuses in every state. A simple Google search can tell you what the legal status of Delta 8 is in your state.z
Delta 8 THC and marijuana are federally different substances, though most hemp and cannabis products are likened and compared to one another. The important difference lies in their Delta 9 THC amount and what plant they are made from. Thanks to the Farm Bill and the Georgia Hemp Farming Act, everyone in the Peach State can enjoy D8!