The holidays can be a stressful time, but Exhale Wellness is here to help! Looking for good vibes to prepare you for that mandatory trip to your aunt's house? We got you. This Black Friday, stock up on all your favorite Delta 8 products ahead of time to get your hands on a great gift with Exhale's Delta 8 Black Friday Sale.
Delta 8 (D8) can be a great stocking stuffer or present for family and friends, but don't forget to grab some for yourself too. After all, it's the season of giving, and who knows what gift you'd like better than you?
Exhale Delta 8 Black Friday Deals
The more you pay, the more you save! Explore the site and find all of the Delta 8 THC products to make your holidays a little more holly jolly. We have three great options to accelerate your Black Friday savings:
Spend $120, save 25% off purchase (CODE: BLACK25)
$160, save 30% off purchase (CODE: BLACK30)
$200 or more, save 35% off purchase (CODE: BLACK35)
Disclaimer: These savings are before tax.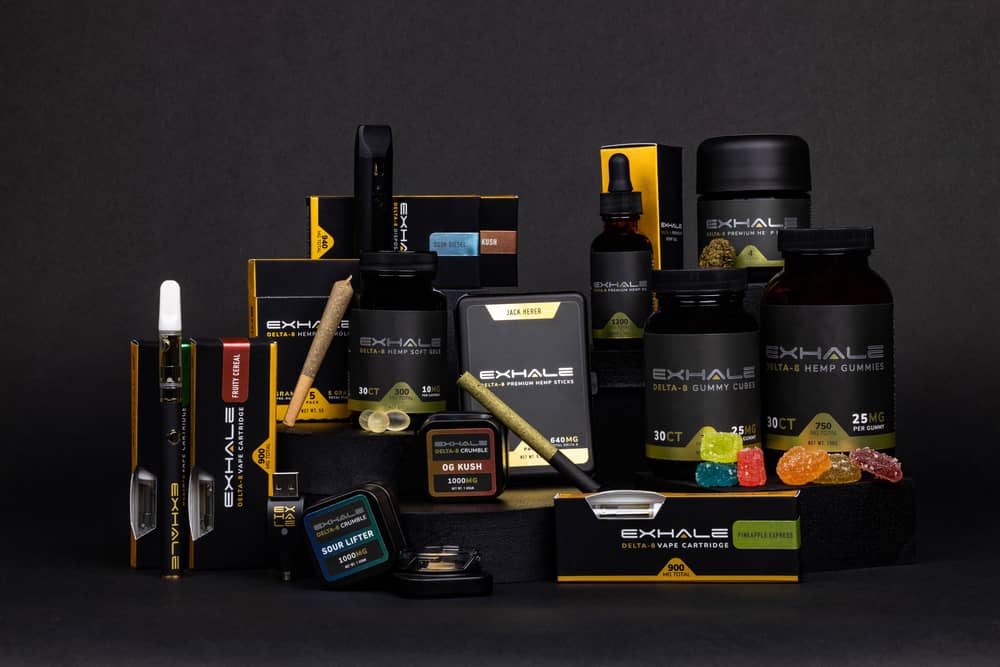 What is Black Friday?
Black Friday is a commercial holiday the day after Thanksgiving where stores offer deals and sales on all of their items. It's a chance to get ahead on holiday shopping while saving that vital moolah for other things (like more presents). Exhale Wellness celebrates Thanksgiving weekend with our own Black Friday sale to bring you more Delta 8 goodness for less.
When Does the 2021 Delta 8 Black Friday Sale Begin & How Long Does It Last?
The deals can't last forever! The Delta 8 sale only lasts one day: Friday 26th at midnight ET (9 p.m. PST). So hurry and grab your Delta 8 goodies while supplies last.
How Do I Redeem the Delta 8 Black Friday Coupons?
Saving on your Delta 8 purchases is easy! After adding your items to your shopping cart, just enter the code at checkout. We do all the rest! Just make sure the total (before taxes) meets the requirements for one of the deals to be applicable.
Which Website Has the Best Delta 8 Black Friday and Cyber Monday Deals?
We get it. There's a lot of other Black Friday deals going on out there in the CBD market. You can get discounts through sitewide Black Friday and Cyber Monday sales with other Delta 8 THC online retailers. But where else are you going to get the cream of the crop? The highest quality, most potent hemp-derived Delta 8 THC products? The best of the best? Only at Exhale Wellness.
Can I Combine My Black Friday Coupon With Other Delta 8 Deals?
Black Friday coupons cannot be combined with other Exhale Wellness deals. But with the bargains already so beefy, it's almost like you're getting more than one either way! We exclude orders containing 1 pound of Delta 8 THC flower or greater, subscription products, bundles, or any other product that's already on sale or discounted.
Can I Order Delta 8 Outside of the USA?
We do our best to ship where you are, but unfortunately, Exhale Wellness does not currently ship outside of the United States. Although Delta 8 THC is federally legal and regulated by the federal Food and Drug Administration, there are individual state laws regarding the sale and purchasing of Delta 8 THC. Please check with your state and local laws before purchasing.
Additionally, Delta 8 products purchased from other countries may be sourced from poorly grown hemp that does not abide by federal growing standards. Even worse, the D8 could've been made from marijuana instead of cannabis, making it federally illegal. If you're unsure, call the manufacturer and confirm where their Delta 8 was sourced from so that you know exactly what you're getting.
What Is Our Shipping Policy for Black Friday?
Most orders ship out in 24 hours from the time they were processed. We offer economy, standard, and expedited shipping on all Exhale orders. Shipping times can vary from 3 to 7 days on business days after processing. Delays (especially around the holiday season) in shipping time may vary.
What Is Our Return Policy for Black Friday?
We offer returns and refunds 30 – 45 days after order placement. We doubt you'll have a problem with your order, but if for whatever reason you need to request a return, you can do so with our Refund Request Form. Just package your items and send them back. Returns will exclude purchases of a 1/2lb of flower or greater.
Got more questions about sale details? Our customer service team can help anytime by email at support@exhalewell.com or calling (323) 448-3810.
Exhale Delta 8 Black Friday Products
Exhale has the best deals around, but you're probably wondering what to expect from us that you can't find anywhere else. Our Delta 8 and CBD products are made with the finest hemp grown here in the US with no artificial additives or preservatives. What's best is the wide selection of Delta 8 products you can choose from. It's a D8 wonderland in here!
Delta 8 Fruit Gummies
Our gummies are all naturally vegan and come in a bunch of tasty flavors. Hate the taste of earthy oil tinctures and artificial cherry flavors? Us too. You won't find that here! How about juicy berry or sweet citrus? All of our gummy flavors come from organic extracts and are so irresistible; you'll look forward to eating them for more than just the effects.
These sweet snacks look like any ordinary gummies, giving you the privacy and discretion you need to enjoy your Delta 8 in peace. Just don't confuse them for regular candy, or you're in for a wild ride!
Delta 8 Gummy Cubes
Love gummies but hate asymmetry? Cubes are clearly the best shape for gummies when you're looking for that nice Euclidian vibe. Delta 8 gummy cubes bring the same fun in a six-sided treat in flavors like elderberry, blueberry, kiwi, guava, and strawberry. They're still made from all-natural fruit juices and vegan ingredients, so you get a clean and organic product with no added GMOs.
Delta 8 Vape Carts
Tired of the same old vape flavors and spending tons on disposable vape pens? Exhale Wellness has 10 different vape cartridges to try out! Switch out one flavor when you get bored of another, or stock up on your one favorite flavor, so you never run out of Delta 8 THC bliss. Our Delta 8 carts are made from all-natural organic hemp seed oil, so not only are they safe to vape, but they're free of heavy metals or questionable ingredients like MCTs or PEGs. Each cartridge contains 900mg of Delta 8 THC guaranteed to boost your mood in just a few puffs.
Delta 8 Flower
Roll your blunts, pack a bong, or bake into a cookie. Delta 8 flower is a treat consumed in many ways! Whatever you can think of, you can probably do it with Delta 8 flower. Made from organically grown hemp flower and powerful Delta 8 distillate, these buds are packed with blissful sensations just waiting to be experienced.
With so many strains to choose from, you won't have a problem finding your favorite. For a more chill evening at home, try our Indica-dominant strains like Northern Lights or Zkittles. Or, for the party animal, try a Sativa-dominant strain like Sour Space Candy and be the life of the party as you feel the effects of the energizing Delta 8 pulse through you. Need something somewhere in the middle? We got you: try our hybrid strain Lifter to get the best of both worlds.
Delta 8 Pre-Rolls
We can't all be good at rolling our joints, so why not let Exhale Wellness do it for you? Our pre-rolls come pre-packed with Delta 8 flower and are ready to light up when you are. In the same strains you love with our flower, find an easier way to take care of your Delta 8 needs with a convenient and easy pre-roll.
Delta 8 Concentrates
Maximum Delta 8 benefits await you with these extremely potent concentrates. Crumble is a dry concentrate from cannabis plants that has a powdery consistency and crumbles easily. Unlike other THC concentrates such as shatter, wax, resin, or cannabis oils, you can sprinkle crumble over the top of D8 flowers or buds. Delta 8 wax crumble can be added to your flower, cooked or mixed in with drinks, or dabbed for strong Delta 8 effects. There is no right or wrong way to get the best of this super potent Delta 8 product.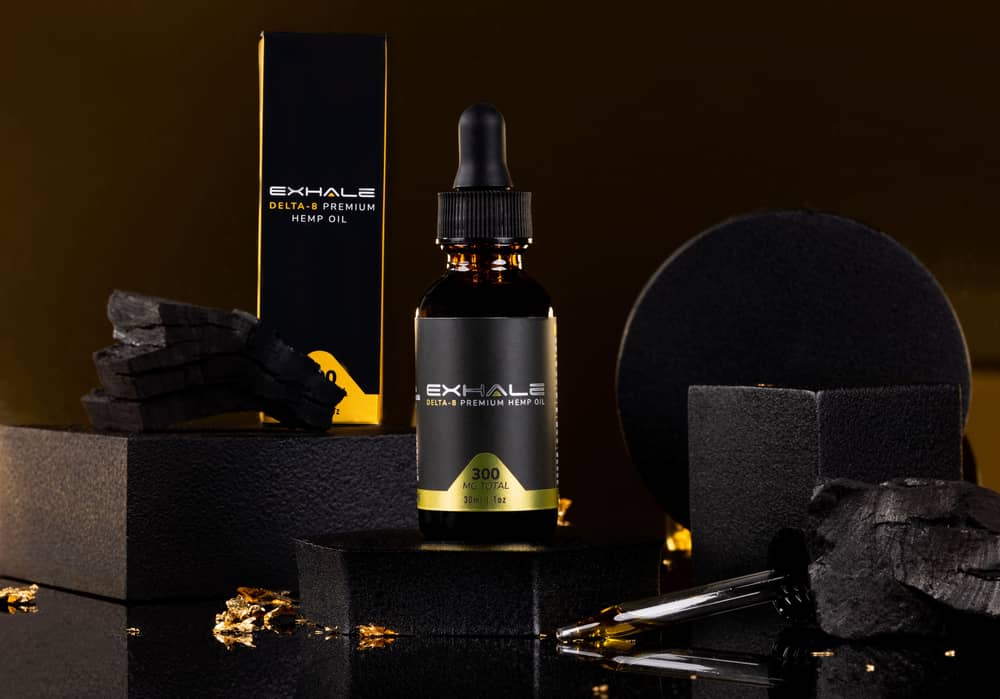 Delta 8 Tincture Oil
Drumroll, please, for this incredibly versatile and flexible Delta 8 super item! Delta 8 tincture oil is one of the only D8 products able to be taken 3 different ways. It can be mixed into food or drinks, sublingually absorbed, or swallowed as-is. Some people even rub it into their skin as a topical!
Dosing is made easy with a built-in metered dropper to help you measure out just the right amount for you. Unlock the far reaches of your mind and body with safe, CO2 extracted hemp mixed with the potency of Delta 8 THC.
Delta 8 Soft Gel Capsules
Easy and convenient to take wherever you go, Delta 8 soft gels fit into your pocket or purse for easy access to euphoria. While Delta 8 edibles take longer to work through the digestion process, their effects last much longer (about 7 hours!), making them the best for those long celebrations out or lazy evenings at home. Pre-dosed measurements in 10, 25, and 50mg capsule doses make dose measurement easy and simple.
Delta 8 Cigarettes
Get a big nerve and worry reduction and improve your mood with our Delta 8 THC Cigarettes. Made with pure Delta 8 flower and packed with 80mg of Delta 8 THC per cigarette, these sticks have a lot of stress relief power in one small roll! Delta 8 cigarettes burn smoother and cleaner with their plant-based paper wrappings and come in a convenient carrying case. Each case contains 8 cigarettes, stretching out your Delta 8 pleasure to a total of 640mg!